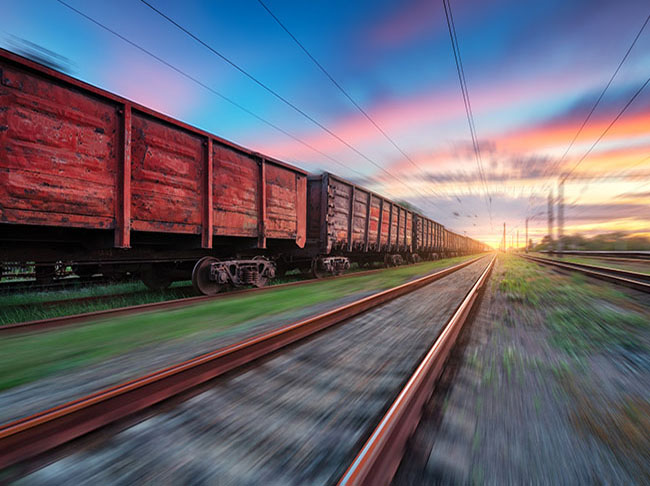 Railway transportation, which is generally used to transfer heavy and bulky loads such as underground resources, agriculture, and forest products, is environmentally friendly, requires high investment costs, and is not as common as necessary due to infrastructure investments. However, its importance is increasing daily despite the limited service provided.
Railway transportation is a type of transportation that can be carried out without incurring high costs in long-distance transportation of the products mentioned above, using international railway lines, with closed, open, and special type wagons to every point in Europe and Asia. Compared to other transportation types, it is very advantageous in cost and time in international cargo shipments.
Karaca Logistics considers the necessity of making railways more convenient for the transportation of not only certain cargoes but also all cargoes and comprehends the future importance and potential of Railway Transportation; With its worldwide authorized agency network and many international agreements it has made, it continues to offer its customers in a cost-effective, fast, safe and integrated way by integrating Railway Transportation Services with other transportation mode services.
Karaca Logistics is a corporate member of the Railway Transport Association (DTD), which was established in 2006 to develop railway transport in line with the era's requirements and the country and increase its share in the country's total vehicle. DTD strives to create a solid non-governmental organization by gathering all companies operating in the railway sector under one roof. Karaca Logistics; With its membership aims to closely follow the developments related to railway transportation in its country and the world and benefit from the power of sectoral unity.
As Karaca Logistics;
Economical Full (Full) Train Transportation Specific to Needs (Block Train Organizations)
Domestic Rail Linked Port - Factory Transportation
Open and Closed Wagon, "Shippersown" and "Railway owned" Container Transportations
Multimodal, Door-to-Door Transportation Solutions with 45 Containers Between Turkey and European Countries
Transport Services to Russia, Baltic States, and CIS Countries with European Connection
Wagon Supply in a Wide Range From 4-Axle Wagons to Platform and Malignant Type Wagons According to Needs
Conventional wagon loadings in the corridor between Western and Central Europe, the Balkans, the Middle East, and Turkey
Multimodal Transport Solutions to CIS Countries
Wagon Loading, Unloading and Handling, and Lashing
We provide our services with Full Time and Reliable Delivery Times.