ROMANIAN TRANSIT PASSES WILL BE FREE AND  UNDOCUMENTED.
Date: 2022.04.30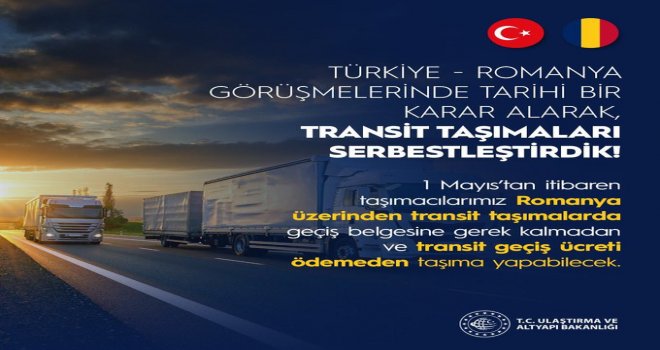 A KUKK meeting was held in Istanbul between Turkey and Romania on March 29, 2022. The previous KUKK meeting between the two countries was held in 2018, and after 2018, the delegations of the two countries could not come together and an increase in transition document quotas could not be achieved in line with the need.
In the KUKK meeting held in Istanbul on 29 March (Land Transport Joint Commission), within the framework of long negotiations, an agreement was reached on the liberalization of the quotas of 55,000 free and 23,000 paid Romania transit documents, and the transit transports to be carried out over Romania will start from 1 May 2022. It will be completely free of charge, exempt from the pass document.
Minister Karaismailoğlu, in his post on his Twitter account, announced that they made a historical decision as a result of the Turkey-Romania talks and liberalized transit transports and said, "As of May 1, the application of transit documents and transit fees has been lifted in transit transports over Romania." used the phrase.