TRANSITION DOCUMENTS TO ITALY HAVE BEEN EXHAUSTED.
Date: 2022.04.07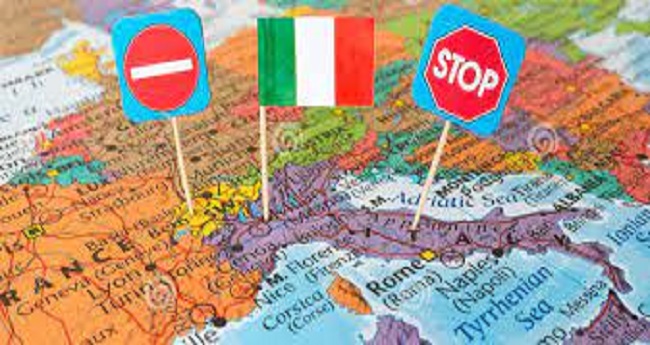 The demand for exports to Italy by road has increased by 40% this year, but Turkish trucks have not been able to transport there for a week because their pass documents have been exhausted.
Turkey's increasing exports have increased the need for transit documents for Turkish trucks in international road transport. With the initiatives of the relevant ministries, especially in the last two years, the transit and bilateral transit document problems of many countries that traded started to be solved one after the other, and significant gains were made in this regard. However, the Land Transport Joint Commission (KUKK) Meeting with Italy has not been held for about 7 years. For this reason, the number of available documents is insufficient in the face of increasing exports. Turkish transporters have not been able to transport to this country for a week because their bilateral transit documents have been exhausted. Industry officials want a KUKK meeting with this country to be urgently organized and the number of bilateral pass documents to be increased from 35 thousand annually to 70 thousand.
Exports to Italy, one of Turkey's most important trade partners, are increasing. Exports, which were 6.9 billion dollars in 2015, exceeded 10 billion dollars in 2021. This increasing trend continues in 2022 as well. 42 percent of export shipments to Italy, that is, approximately 4 billion dollars, are made by road. However, in line with the KUKK meeting held in 2015, Italy issues only 35 thousand bilateral transit documents per year to Turkish transporters. These documents are also given periodically in 3 parts. Speaking to the WORLD, International Transporters Association (UND) Chief Executive Officer Alper Özel said that in parallel with the increasing exports from Turkey to Italy, the daily demand for transit documents, which was about 110 last year, increased by 40 percent this year to over 160. Therefore, incoming documents are running out in a short time. 11 thousand 666 documents issued for the first quarter were completed quickly.
Alper Özel said that the documents in the second period could not meet the need and that these documents would only last 73 days. Özel emphasized that the fundamental solution to this problem is the KUKK meeting. Alper Özel said, "We have not held a KUKK meeting with Italy for 7 years. We need to make a KUKK in Europe as soon as possible. Exports to this country are increasing, but the number of documents has not been updated accordingly. The number of bilateral pass documents should be increased to at least 70 thousand. Finally, we expect support from both the relevant ministries in this regard," he said.
Call for support to Italian companies
Making a call to Italian companies in Turkey, Alper Özel said, "Password barriers in front of Turkish transporters also harm European companies operating here. Therefore, shipments that cannot be made to Italy have a negative impact on the exports of Italian companies operating there. We expect support from Italian companies in this regard. We want Italian companies to get involved in making KUKK urgently," he said.
"The right time for KUKK meetings"
Reminding that the EU, which is reshaping its logistics routes in global trade, wants to take advantage of Turkey's geographical advantage more, Alper Özel said that Turkey can use this power and that its demands can be answered more easily in KUKK meetings. Samuel Doveri Vesterby, Director of the European Neighborhood Council (ENC) at the "A New Road Transport Cooperation Between Turkey and the European Union: Prospects and Possibilities" project meeting held in Istanbul last week, said, "Turkey's logistics connections will gain even more importance for us, the EU For the economic interests of Turkey, the transportation problems of Turkish transporters should be solved".
Czech Republic is the only way to go from Turkey to Germany.
Alper Özel stated that the problems of transit pass documents in export shipments to Europe have been solved to a large extent by the initiatives of the relevant ministries and UND, and that the only obstacle on the Germany route is the Czech Republic. He also said that there are requests for a KUKK meeting with this country. Alper Özel said, "With the initiatives of our Ministry, we have achieved great gains in transit document on the European route, especially in the last two years. The document issue was resolved with Bulgaria, Hungary, Slovakia and finally Romania. However, there is an obstacle in the way of our ability to go to Germany, our most important export market, without any document problems. While Germany gives us 170 thousand pass documents annually, Czechia only gives 10 thousand transit pass permits. Since there are problems with Austria, increasing the transit documents with Czechia on this line is the most ideal solution for us." Stating that Minister of Trade Mehmet Muş received 6,000 additional transit pass documents during his first visit to Czechia last year, Özel said, "We believe that the problem of transit pass document with this country can be resolved permanently if necessary initiatives are taken." Alper Özel also stated that due to the war in Ukraine, they need more transit pass documents than Poland for exports to the Baltic countries, and that they want a KUKK to be made with this country as well. Reminding the visit of Minister of Trade Mehmet Muş to Kazakhstan, Özel said, "The number of transit pass documents with Kazakhstan can also be increased on the occasion of this visit." Source: Dünya Newspaper/Aysel Yücel